(Last Updated On: November 10, 2023)
Last Updated on November 10, 2023 by tech pappy
The 7 Best Open Source Word Processors for Linux
Open-source software has been growing in popularity in recent years. It's not just for Windows and Mac anymore. Linux users have a lot of great options when it comes to word processors. This is why we've compiled this list of the 7 best word processors for Linux.
The 7 best word processors for Linux is now just one click away. They are free to download and use without the burden of licensing fees or restrictions. Additionally, many word processor applications have been ported across multiple operating systems. This article will cover seven of the most popular office suites that can be downloaded at absolutely no cost!
LibreOffice Writer
LibreOffice Writer used to be known as OpenOffice Writer and is included in the LibreOffice suite of tools. This also includes a spreadsheet application (Calc), presentation creator (Impress), and more. It is compatible with Microsoft Word documents and can even open .docx files!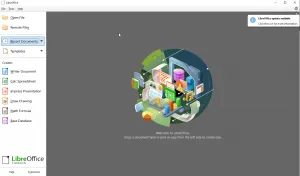 LibreOffice Writer has all the features one would expect from an office suite. It has support for tables, fonts, headers/footers, page numbers, and styles. You can download it here
Calligra Writer
Calligra Writer is a KDE application that is part of the Calligra Suite. It has many of the same features as LibreOffice Writer. Also, it includes support for creating e-books and offers a more WYSIWYG interface. Calligra Writer is available in several languages. there are versions in English, French, Spanish, Italian, and German.
Abiword
Abiword is a lightweight word processor that has been around for years. It doesn't have all the features of LibreOffice Writer or Calligra Writer. Hence, It is great for basic document creation and editing. Abiword is available in over 100 languages and can open Microsoft Word documents without issue.
LyX
LyX is a document processor that uses LaTeX to create PDF files. It is not really one of the Best Word Processors for Linux in the traditional sense, but you use it to write documents with ease. If you are looking for an application that offers more control over formatting and layout, LyX is worth checking out.
KWord
KWord is an open-source word processor from KDE that was originally based on WordPerfect. It has all the features you would expect from a word processor including support for tables, styles, images, and footnotes or endnotes. KWord also offers document protection and password-protection features.
OpenOffice Writer
Open Office was highly popular not too long ago. It was considered one of the best word processors for Linux. It offered similar functionality to what you get on Windows or Mac at no cost. However, we recommend using LibreOffice over Open Office any day.
Google Docs
Though this one is not considered as one of the Best Word Processors for Linux, for those who are looking for free word processing in the cloud, Google Docs is a great option. It is not open-source, but it doesn't cost anything to use. Also, you can access it from anywhere with an internet connection. Google Docs has no numbered lists or bulleted points. You have to write out the full sentence for each bullet point and number.
GNOME Office
GNOME Office is a collection of office applications that are based on the OpenDocument Format (ODF). This includes a word processor, spreadsheet application, and presentation creator. GNOME Office is available in many languages. It has an easy-to-use interface. It also supports drag-and-drop file sharing between applications.
OnlyOffice
OnlyOffice is available as a standalone application or as a web-based app. It can be installed on Linux systems using the snap package manager.
OnlyOffice is a powerful office suite that includes a word processor, spreadsheet application, and presentation software. It offers a wide range of features. It includes support for collaborative editing, templates, and extensions.
Open-source on Linux World
Finally, the Linux world would not be the same without Open Source software. Although, Microsoft Office is dominating most markets. There are still some free alternatives available. Those who want to switch from their pricey office suites can jump into an open-source one.
We have a whole bunch of word processors that can help you write documents and prepare presentations. Therefore, it is very easy to move away from LibreOffice Writer or Google Docs and try something different.
Which one is the best word processor for linux?
In conclusion, the best word processor for you is the one that satisfies your needs. Whether you need to collaborate on documents or just want a simple way to write, there are many options out there. We shared our thoughts about many different writers in this article and hope it will help you find the perfect writer for your next document!
I've been using LibreOffice Writer for a while now. It seems to work well. It was free of charge when I first started using it. Moreover, the features are fantastic. It is a great alternative word processor that is compatible with Microsoft Word documents.
Calligra Writer has some features that make writing easier. You can change the text size by pressing Ctrl+Mouse Wheel. You can insert images into a document without having to install any additional software. Abiword also does what most people need in a word processor. You can open files, save them as different file types, spell checkers, and more. Therefore, it is good for light use.
For more Tech Tips and Tricks, please Techpappy's main site.