(Last Updated On: August 30, 2023)
Last Updated on August 30, 2023 by tech pappy
Windows 11 is the latest version of Windows, and it has a lot of new features. One of the most exciting new features is the new taskbar. The taskbar is a bar that appears at the bottom of the screen. It contains a list of all open windows to switch between them easily.
You can now drag and drop windows between the taskbar and the desktop. Another new feature is the new Start menu. The Start menu is a list of all of your programs and files. You can now customize it to look how you want it to look. Windows 11 also has a new search feature. You can now search for files and programs on your computer.
The Taskbar of Windows 11
The taskbar is one of the most commonly used features on Windows. It provides quick access to your running applications, and you can customize your files to suit your needs.
In Windows 11, the taskbar has a new design to make it more efficient and user-friendly. Here are some of the hidden features of the upgrade that you should know:
1. You can customize the taskbar to show only the applications you want to see. This ability to change it is an excellent feature if you have a lot of applications installed and want to minimize the number of icons on the taskbar.
2. Windows 11 offers a hidden way to hide the taskbar entirely if you don't need it.
To do this, open the taskbar settings by clicking the gear icon in the lower-left corner of the screen and then clicking the taskbar. Click the "Hide the taskbar" check box on the Taskbar settings page.
3. Windows 10 includes several features that allow you to customize your experience. One of these features is adding new buttons or shortcuts to the taskbar. These buttons can be helpful if you frequently need to access specific tasks or files.
4. Windows 11 has a feature that allows you to drag and drop applications from the taskbar to other locations on your computer. This drag and drop can be helpful if you want to move an application to a different location on your computer or if you want to disable an application temporarily.
Windows HDR supports
Windows 11 is the latest operating system from Microsoft. It fully supports HDR, which is excellent news for anyone who wants to take advantage of the benefits HDR provides. HDR allows for more realistic images and videos and can make your photos and videos look more vibrant and lifelike.
With this new feature, users can better image quality and color accuracy when viewing their computer screens. This feature is significant for users who use high-end displays, such as 4K monitors.
HDR is a technology that allows for more excellent contrast and brightness in images, making images look more realistic and lifelike. The benefits of using Windows 11 with HDR include improved color accuracy and detail and a more immersive experience when watching videos or viewing photos.
Windows 11 Multitasking
Windows 11 includes a new feature called "Multitasking," which allows you to run several programs simultaneously. Multitasking is great for productivity, as you can work on multiple tasks simultaneously. You can also use multitasking to run applications in the background, so they are ready when you need them.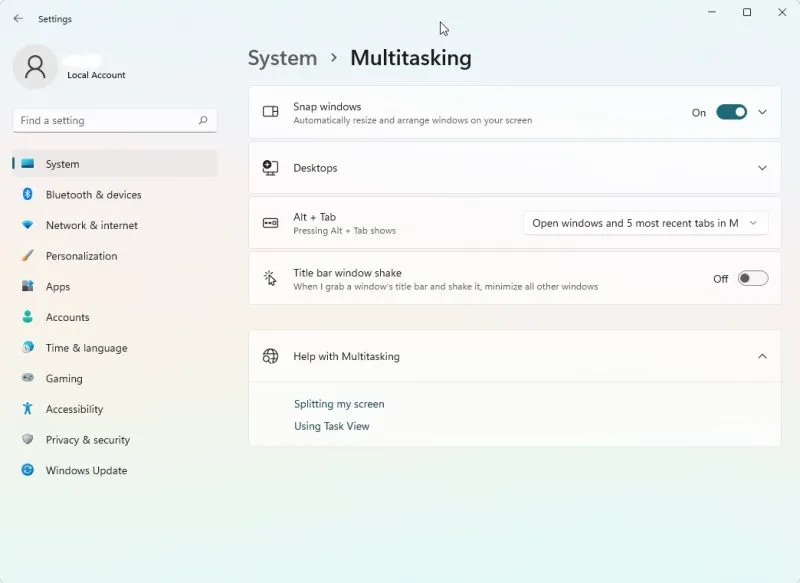 To enable multitasking, follow these steps:
1. Open the "Start" menu and select "Settings."
2. Under "System," click on "Advanced system settings."
3. Under "Performance," click on "Multitasking."
4. In the "Multitasking" window, check the box next to "Allow multiple applications to run at the same time."
5. Close the "Advanced system settings" window and restart your computer. You can also enable it by going to settings and searching for multitasking.
Windows 11 Voice Typing
Windows 11 includes a new voice typing feature that allows you to type using your voice. Voice typing can be beneficial if you have a disability or cannot use a keyboard. It is simple to use voice typing. All you have to do is press Windows+H and start talking to Cortana. Cortana can help you with tasks like setting reminders and finding information.
Windows 11 Focus Mode
Windows 11 Focus Mode is a new feature that allows you to access your apps and files without switching between windows quickly. Focus mode is beneficial when you work on a project and keep all of your windows open simultaneously.
Windows 11 Folders On Start
One of the hidden features of Windows 11 is the ability to have folders on the start screen. Folders on start can be helpful if you want to group your apps by type, for example.
You can find this feature by going to the Start screen, clicking the "Organize" button, and then selecting "Start screen folders." You can pin these folders to the Start menu so you can access them regularly. It allows you to easily access folders frequently used by clicking the pinned folder's name on the start menu.
Windows 11 right-click menu
Windows 11 Right-Click Menu is a new feature in Windows 11 that allows users to access different functions and features by right-clicking on an object. For example, users can right-click on a document to open it in a new window or right-click on a photo to share it with friends. If you are used to the old Right-Click menu, the new menu simplifies things.
Windows 11 Snap Layouts
Windows 11 has a new feature called Snap Layouts. This feature allows you to arrange your windows on your screen in a grid or a list. Snap Layouts are helpful if you have a lot of windows open and you want to keep them organized.
The New File Explorer
The new File Explorer in Windows 11 makes finding the files you need easier. The new layout organizes your files by type, making it easy to find your files. You can also search for specific files and folders and view your files in various ways.
Windows 11 Themes Personalization
Windows 11 offers a variety of personalization options, including themes, which let you change the look and feel of your operating system. You can also customize your Start screen and use features like Cortana to help you get things done. You can easily add new themes by following the steps below:
1. Go to the Windows Store.
2. In the search bar, type "Windows themes."
3. Select the "Windows themes" result.
4. Select the "Get" button.
5. Select the "Install" button.
6. Select the "Open" button after the installation is complete.
7. Select a theme from the themes list.
8. Select the "Apply" button.
The new Start Menu:
The new start menu in Windows 11 is a lot more customizable than before. You can now change the tiles' size, color, and transparency on your start menu. You can also change what tiles show up on your start menu by clicking on "Show more tiles" at the bottom left corner of your screen.
These, my friend, are the top 11 hidden Windows 11 features that I came across. Let's put it this way- some people will love these enhancements, and others won't. You'll have to decide whether this is right for you.