(Last Updated On: August 30, 2023)
Last Updated on August 30, 2023 by tech pappy
There are several free, open-source Linux file managers for Linux operating systems. However, many users are ignorant of the full capabilities of the file managers they use regularly.
Most default file managers provide basic but acceptable functionality; however, you may install more feature-rich file managers to meet your requirements.
Like every other part of Linux, file managers provide many alternatives, and this article will look at some of the most popular file managers.
We'll also discuss some of the features that make each file manager special. So, if you're looking for a new file manager for your Linux system, be sure to read this blog post!
Nautilus
Nautilus is a file manager that comes preinstalled on Ubuntu systems. It is a great basic file manager that provides all the essential features one would expect, such as the ability to create and delete files, move and copy files, view file properties, and search for files.
Nautilus also supports advanced features such as creating bookmarks and enabling encryption for added security. Overall, Nautilus is an excellent choice for a simple yet effective file manager.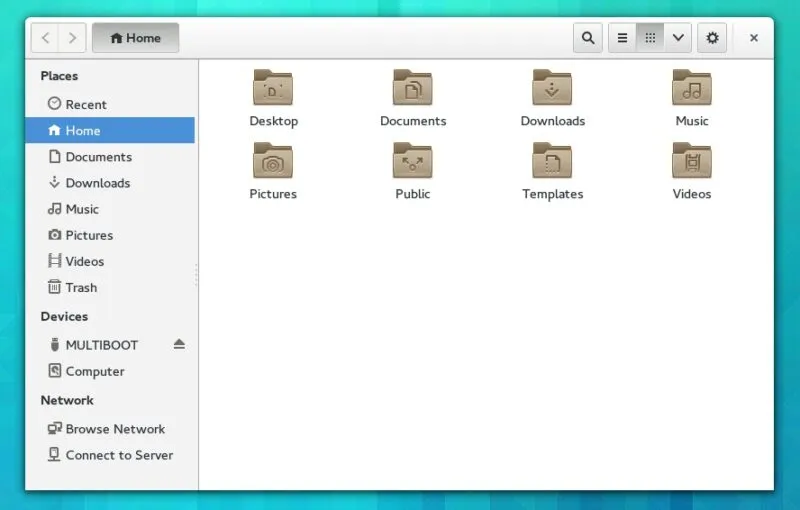 You can easily navigate through your files and folders and view them in list, icon, or detailed view mode. Nautilus also allows you to perform various actions on your files, such as copy, move, delete, or rename.
In addition, you can also create new folders and files and extract archives. Overall, Nautilus is a great file manager for those looking for a simple and easy-to-use solution.
Dolphin
Many people have highly recommended Dolphin as a file manager. It features several unique traits, including tabs and split-view mode, which lets you work with different folders at once while using this app!
The design makes it simple but not too complicated – just how we like our things around here 😉 You can also customize everything if needed or want more flexibility; plus, there's some control over data administration too, so everyone is happy.
The layout is flexible and easy to use because of its customization options. You can add plugins that let you run commands from the current folder or change how files are displayed onscreen in different ways for easier viewing, among other things!
Thunar
Another lightweight option that's great for older or slower machines is Thunar.
Gnome Files is a popular file manager preinstalled on many Linux distributions. However, it can be quite resource-intensive, making it a less-than-ideal choice for older or slower machines.
In contrast, Thunar is a lightweight option specifically designed to be fast and efficient. As a result, it's an excellent choice for users who want a speedy and reliable file manager without all the bells and whistles.
Additionally, Thunar is easy to use and has various features that make it an excellent choice for users of all levels. Whether you're looking for a simple file manager or something more robust, Thunar is worth checking out.
Thunar is a fast-loading and lightweight file manager available for the XFCE desktop environment. It loads quickly, enabling easy navigation. Its straightforward interface makes finding what you need simple while giving users plenty of options in terms of the settings editor. This means adjustments can be made quickly.
Krusader
Krusader is a beautiful, intuitive file manager with an elegant interface that makes using it more enjoyable. Krusader's robust feature set is based on the KDE Plasma Environment.
This environment provides users with the same keyboard navigation and command structure as Midnight Commander, making it easy to manage many files simultaneously.
One unique thing about Krusader is that you navigate or perform conventional drag-and-drop tasks using just your mouse/trackball instead of clunky text inputs like most other programs do. There's no need for ALT+TAB anymore when managing multiple projects.
Konqueror
Konqueror is a complex file manager. One of the features that sets this program apart from other similar programs is its ability to function as a web browser.
It also gives you an excellent high-level view of your directory structure with side panel shortcuts for easy navigation of files on your system's removable drives. Many Linux users will tell you they prefer this type of KDE-based distribution.
XFE
XFE is a user-friendly and intuitive file manager. It can be customized to have one or two directory panes with options conveniently displayed on the navigation bar if needed, making it easy for anyone to use. If you are a Windows user, this is the file manager.
XFE is a small yet feature-rich file manager with an intuitive user interface. It's similar to MS Explorer or Midnight Commander. Still, it offers more options than either of them.
XFE's themes are beautiful nonetheless because they allow users to adapt their color scheme by decorating widgets and icons, making this program perfect even if your desktop lacks creativity!
Many different Linux file managers are available, each with unique features that make them stand out. For example, some offer color-coding or visually representing files.
In contrast, others allow you to group similar items in one folder for easy access later on, but what about if your favorite manager isn't on this list? Let us know in the comment section below.