(Last Updated On: August 30, 2023)
Last Updated on August 30, 2023 by tech pappy
WhatsApp calling is a feature that allows you to make voice calls over WhatsApp. This feature is available on both Android and iOS devices, but it is not yet available on desktop versions of the app.
This article provides a step-by-step guide on how to disable WhatsApp Calling. It also includes some valuable tips and tricks to help you make the most out of your conversations.
A few years ago, people started noticing that they could call each other over WhatsApp without paying for minutes or text messages.
This was an exciting development because people could talk for free over their favorite app instead of using their phone's data plan or paying money for expensive international calls.
This new feature has been so popular that more than one billion people now use WhatsApp calling every day! That's a lot of people! Yes, many people are using the new feature to make calls on WhatsApp.
When WhatsApp came up with the VoIP calling feature, it removed the regular calling feature.
With the introduction of WhatsApp, users could communicate with their friends and family differently. However. With the added VoIP calling feature, people could not use the regular calling features the same way.
With this new enhancement, WhatsApp has revolutionized the world of communication. It also made it harder for people to disable Whatsapp callings.
How to Disable WhatsApp Calling?
Many iPhone and Android users have been complaining about WhatsApp's new, unwanted feature: when someone calls you, your phone will ring. This is an annoyance that some would like to avoid for some people. Sadly, there are no settings or quick fixes for it.
The only two solutions to these problems that I know of are:
1: Uninstall the new WhatsApp and install an older version
You can download the old WhatsApp version in this method as the previous versions did not have a VoIP WhatsApp calling feature. However, make sure you back up all your WhatsApp chats before you uninstall the latest version from your phone.
If you decide on this route, you will be able to disable the calling feature of WhatsApp. Bear in mind that you will not have all the bells and whistles that the newer version of WhatsApp brings.
As you do with any changes you make on your tech devices, do not forget to do a backup before proceeding with the uninstalling and re-installing of the old version.
2: Use a third-party app that allows you to disable WhatsApp calling.
You can use third-party applications if you want to disable WhatsApp calling. You can use the GBWhatsApp application, a modified version of the official WhatsApp that provides hundreds of features that you do not get with the official WhatsApp.
You can use GBWhatsApp instead of the official WhatsApp as you get features to hide blue ticks, change themes and fonts, delete the sent messages, and most importantly, you can easily disable voice calls on GBwhatsApp.
WhatsApp may be very convenient, but it is not without its drawbacks. The 2nd way to disable WhatsApp calling is to use a third-party app like GBWhatsApp.
There are many WhatsApp look-alikes out there. The one that is more aline with WhatsApp when it comes to features is GBwhatApp.
GBwhatsApp adds many new features and enhancements to make your WhatsApp sessions more enjoyable.
This app allows you to change themes and fonts and easily remove sent messages. You can, of course, disable WhatsApp calling using GBwhatsapp.
Forwarn, though, GBwhatsaap is not available in the app store. You need to download the disable WhatsApp calls apk from a third-party site. Also, you have to change your security settings to allow it to install on your device.
As with installing the older version of WhatsApp, be sure you do a backup before you dive into GBwhatsapp. You need the backup of your WhatsApp anyway to restore it to GBwhatsapp.
Whatsapp in quiet mode.
I know I said there were two options of how to stop calls on WhatsApp without blocking. There is another one. I am not sure if it is an option or not. If you do not wish to use the older version of WhatsApp or be bothered with installing a third-party application, you can change the notification of your WhatsApp to remain silent.
You can do that by going to settings and notifications, changing the ringtone to silent, and vibrating off in the calls section.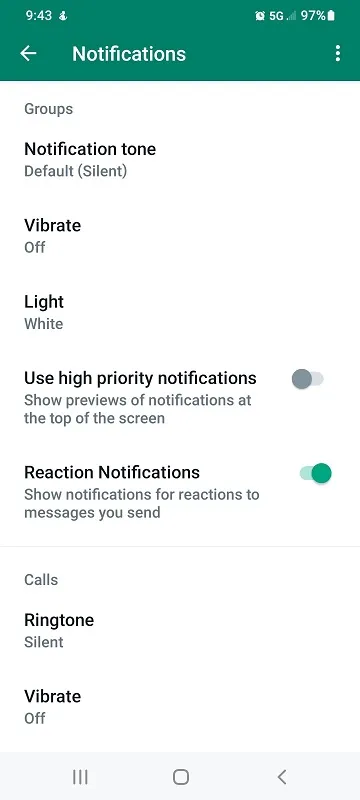 If you're one of the many people looking for how to disable Whatsapp calls on android and how to disable Whatsapp calls on iPhone, look no further. We've outlined three different methods that should work for most people.
Hopefully, this will help put an end to those unwanted calls. Have you had any problems with WhatsApp calls? Let us know in the comments below.