(Last Updated On: August 30, 2023)
Last Updated on August 30, 2023 by tech pappy
Are you a DJ looking for the Best DJ Laptops for 2022? Do you want to make sure you're up-to-date on the latest models and features? Are you in the market for a new laptop to use for DJing?
In this blog post, we'll take a look at the top 10 DJ laptops available in 2022. We'll walk you through each one, highlighting its pros and cons, so that you can decide which one is right for you. We've looked at price, features, and user feedback to come up with this list.
The main points to consider before you buy a DJ laptop.
A fast processor:
DJing with laptops requires a certain level of power. Look for a computer with at least a quad-core processor to ensure your laptop can handle all the music files and applications you wish to use.
Dedicated RAM:
A good amount of RAM is essential for DJ laptops and other high-performing machines. For that, look for a machine with at least 16GB of RAM to ensure it can run all the programs and files needed.
Hard drive space
A high amount of storage space is always a good thing for a laptop, and if you're a DJ, it's even more important. Take this into consideration and look for laptops with at least 500 GB or more of total space.
SSD or NVME drive
You can improve speed and power in various ways, such as using an SSD or an NVME drive. DJs will certainly benefit from faster load times when using music files or applications.
Display adapter
A good graphic card or display adapter is essential for any laptop, but it is especially necessary for a DJ laptop. Look for a graphics card with plenty of dedicated VRAM to ensure that your computer can handle all the visuals associated with DJing.
A matte screen:
The problem with a glossy screen is that Glossy screens reflect light, making it hard to see what's on the screen and creating a distracting glare. This light reflection is an issue when you focus on your music or any other activity that requires concentration. Look for a laptop with a matte screen to be more efficient and help your eyes. If the mate screen is out of your reach, you should at least add an anti-glare filter.
A backlit keyboard:
DJs often work in low lights. It can be very hard to perform if you cannot see the keys. A backlit keyboard is a great feature to have in any laptop, but it's especially important if you are frequently working in low-light settings. This backlit can be helpful when performing live but is also an advantage for other types of work where being able to see what you are doing is critical.
We are done with the bells and whistles. It is now time to start thinking about what laptop you'll need for DJing in 2022, and we've got some suggestions for you.
The top 10 laptops for DJing in 2022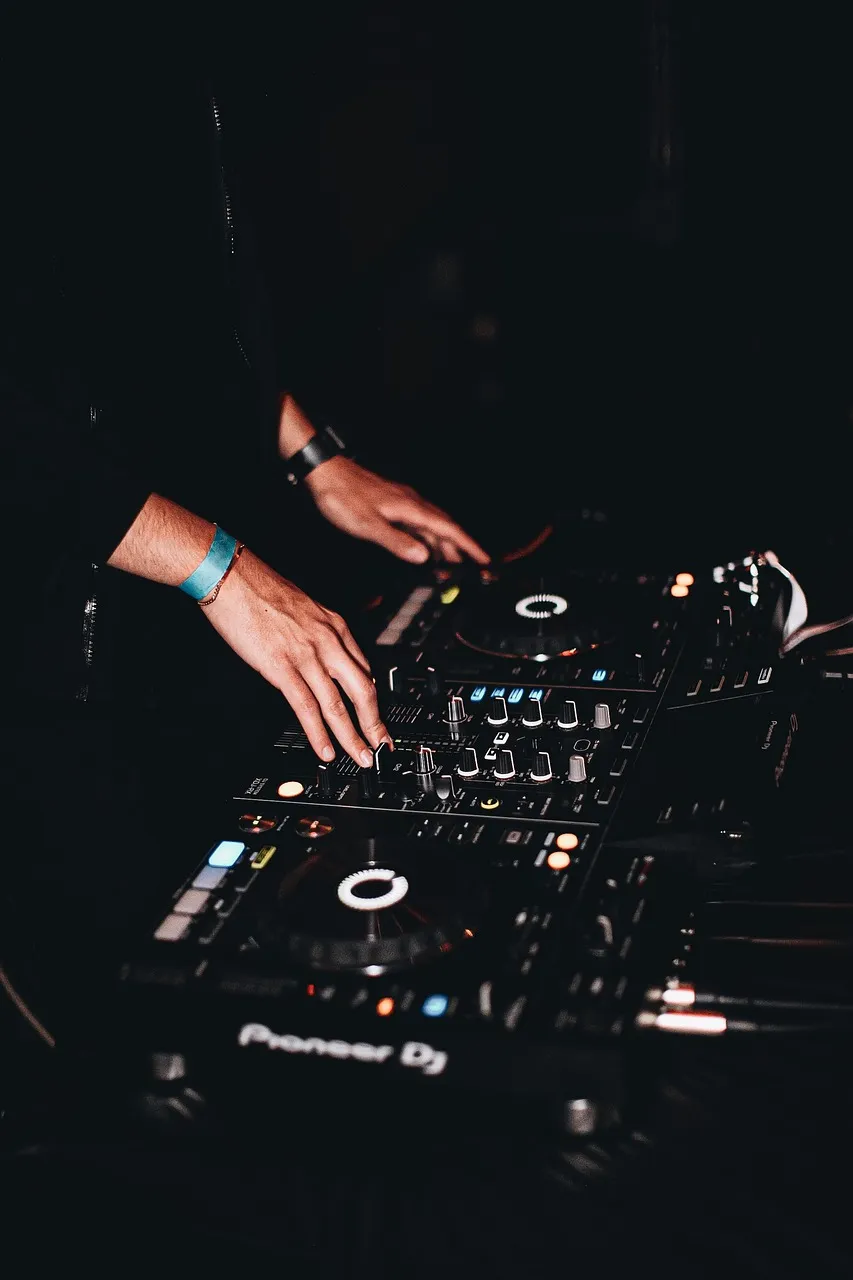 Microsoft Surface Pro 6.
What makes the Surface Pro 6 great? It's more than just a device for work. This hybrid PC is great for entertainment, too – with up to 13 hours of battery life.
Touch screens have been around for a while and are increasingly used in businesses. They can transform into anything from an oversized laptop to a small tablet, meaning that you're purchasing just one device to fulfill many needs. This input functionality is also something that your employees will love to use!
When you require a device that can reliably work on stage or in the studio, the Surface Pro 6 is the best choice. It features an excellent processor, 8 GB RAM & & its long-lasting battery ensures it won't let you down. It also offers 128 GB of SSD storage, meaning incredible speeds, meaning fewer loading times. Mixes, projects – they all load quicker.
Apple MacBook Pro
Apple MacBook Pro
The MacBook Pro is arguably the best DJ laptop, and it could be history's greatest laptop as it has 32GB of RAM and comes with pro audio editing software built-in. GarageBand is still one of the most popular free software programs out there and for a good reason. You can take your mix to the next level by adding loops and samples at affordable prices.
Macs are stylish and functional, able to stand up to heavy use without slowing down. The MacBook Pro also offers an impressive 4TB of storage space! This huge amount of space means you'll have room for thousands of tracks or mixes without worrying about filling up your hard drive.
The latest MacBook Pro is a great laptop for DJs. It's extremely well-designed and perfect for most needs and comes with a hefty price tag. Because it is on the expensive side, you'll have to weigh whether it's within your budget or not. For us, it has been worth every penny.
Microsoft Surface Laptop 3.
We already mentioned the Surface Pro earlier in this list, but it's worth mentioning that the Surface 3 is a fantastic alternative to any of the top laptops for music production in 2022. The laptop has 8GB of RAM, an iPhone processor, and 128GB of SSD storage capacity. Some people might not be crazy about these specs, but trust me, it's a great choice.
Music lovers with laptops will love this device, which has plenty of space for viewing and battery life to last all day. It's also raising the bar in the laptop world in terms of size and features.
Get more than 11 hours of battery life! This laptop will last even with the longest sets, so it's perfect if you need to experiment for hours with different things.
It's also among the fastest laptops that charge quickly, meaning that you won't be disappointed if you're seeking a powerful machine.
Microsoft is at the top of the line in this area, as not everyone loves the surface style of laptops, and there are other options available. They have lots of support for visuals and a wealth of speed and features for music producers and DJs.
Apple MacBook Air
The MacBook Air has great sound quality and long battery life. Not only is it ideal for on-the-go, but it also makes connecting with your DJ equipment a breeze with the variety of ports.
It's designed to be smaller, neater, and more affordable than the main system, with the massive benefits of the speedy, simple Mac interface. There are also plenty of leading DAWs that work with Mac OS, as well as the brilliant GarageBand built-in.
This type of software is universal, meaning you can download it on any device or either Mac or Windows. Some big-name producers swear by Mac-only products, but plenty also exclusively use Windows-based operating systems.
This laptop has a solid price point, with higher prices than some Windows models on this list. It outperforms many of them and offers great features such as a high-quality display and incredible speed. The laptop comes with 8GB in RAM, and there's potential for up to 256GBs in storage.
The MacBook Pro Air is a great laptop for those looking for a long-lasting but secure experience. It's sleek and will stay speedy for many years to come. However, if you can afford it, we recommend checking out the MacBook Pro as well.
Dell XPS 15
When you think about the XPS 15, it was introduced last summer and has remained popular. I think it is because one of its most striking features is the OLED display with vivid colors.
This laptop is also quick – one of the quickest on the market to date. Sixteen gigs of RAM and an iceman processor provide a thin-and-light machine with enough performance. The price point isn't bad, either.
The fingerprint scanner and long battery life make it a perfect laptop for those who need to do some serious work on the go. The lightweight can also be a bonus as you don't have to lug around your heavy laptop all day long.
This laptop's "huge" storage capacity is one of our favorite features. People have different opinions on it, but right now, for most people, it's very reasonable. The DELL XPS 15 is a laptop that will not let you down in the long run. It is more than one of their best models and has all kinds of features.
Huawei Matebook 13.
Huawei has come a long way since last year. It's now seen as one of the more durable and efficient ones on the market, so it's sure to surprise you.
Huawei does typically receive a lot of controversies, which is natural due to their market area. For now, let's discuss the benefits of the Matebook 13–it's sleek, performs well, and has strong battery life.
Huawei MateBook might not be a new device, but it still can give an experience that other sources have inspired. It doesn't make it a bad product either because most Huawei cell phones are cheaper, and this is a good way to access solid tech at a lower price.
Asus ROG Zephyrus S GX701
One may find it a little hard to say out loud, but being a gaming machine means that even DJ'ing or creating music with this laptop is possible. The unbelievable graphics and fast speed blend well with what many producers would be looking for in a leading-edge laptop.
The ASUS is one of the fastest laptops on our list. The standard memory size is 16 GB, but you can upgrade to double the speed if you want to.
Indeed, this new laptop has a whopping 32GB, and there aren't any models on our list at the moment that can come close to this level of specs. Plus, the iceman processor gives you top-notch performance without breaking a sweat, and you'll have access to around 1TB of storage space for all of your documents.
The interface is easy on the eyes, and the sound engineering is appealing. There are now audio plugins that allow you to play your music loud inside the laptop interface.
It's an excellent choice for people in search of DJ equipment. Gaming systems are built for gaming, but they can also produce music.
Samsung Notebook 9.
Samsung has long been a leader in cutting-edge technology, and its laptop lines have always hit the mark in previous years. The notebook 9 is a strong PC with 1TB of storage, a stunning 15-inch display, and a relatively lightweight structure.
The Notebook 9 is a tablet and laptop in one, making it one of the most versatile products on the market. If you want to use the touchscreen with a built-in pen, it should be simple for many DJs and producers who want to manage their mixes beyond the mouse.
They're also always DJ controllers, but the fact that you can produce music with a pen and tablet is likely to appeal to many composers. However, keep in mind that the keyboard integrated with this system isn't going to compare favorably with some of the more responsive ones on our list, therefore, if the simplicity of operation and control are most important to you.
Asus ZenBook Flip S UX370
This light and super-flexible laptop will probably appeal to the DJ or producer on a budget who wants a hybrid. It's one of the most adaptable laptops on our list owing to its touchscreen built-in.
The laptop has a fingerprint sensor, which means that if you want to secure your mixes under a special lock and key, you can. The Asus Zenbook Flip S is a super-slim notebook with barely half an inch thickness.
In addition, you get 16 GB RAM for great performance and an iceman processor to help you mix both in the studio and on the go.
Overall, the ZenBook is a great all-around laptop, indicating that most of the relevant boxes are ticked if you are searching for style, performance, and mobility. It's also simple to add more storage space here; there are about 512 GB available now, but you may not necessarily need it.
Razer Blade 15
The Razer blade 15 is the newest member of a long line of excellent laptops that appeal to beginners and experts alike. This 2020 gaming and music laptop has Iceman processing power, a 1000 A type screen, and 16 GB RAM.
Specifications like these should be enough to entice any DJ or music producer looking for excellent performance in terms of power and visuals. For the price, you get a decent SSD size (512 GB at a basic level), as well as a big screen (15.6 inches).
The Razer Blade 15 is an attractive laptop that would be a fantastic match for the demands of a budding DJ who wants to travel with a professional and elegant device. This laptop may not be the cheapest on our list, but it does deliver exceptional value in terms of performance and display quality.
Something like this would set you back a significant amount of money. It's worth a look if you've got the cash available, but make sure to do your research.
The future is now. DJing from a laptop has been around for quite some time, but as technology advances and the music industry evolves, so does our need to have the best equipment possible at all times to stay relevant in this competitive field.
In 2022 we can look forward to seeing many new laptops with top-of-the-line features that will allow us DJs to succeed on any stage. But which ones are going to be worth your money?
Suppose you're looking for a high-performance laptop without breaking your bank account or compromising build quality. In that case, these ten models should meet most of your needs and provide an edge over other DJs who don't have access to such cutting-edge tech!